Man's activities may modify the rural landscape, but its essential character is determined by geology and the weather. Rock type and soil acidity affect natural vegetation and vegetation affects wild life. Geology also influences human behaviour. Prehistoric man picked his route on the free draining land above the spring line and used the natural ford on the unimproved Thames at Goring Gap: the point where the river cut down through the escarpment of the Chilterns and the Berkshire Downs.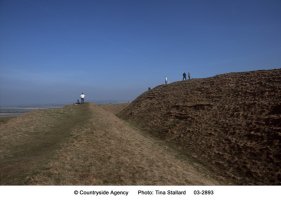 The rocks under the Ridgeway are Cretaceous deposits: Gault clay and Greensand on lower ground, Chalk on the Chilterns north of the Goring Gap, the Marlborough and Lambourne Downs to the south. The mass of Chalk was shaped by rain that washed away overlying soft sandstones and sediments. Insoluble flint mixed with Chalky clay forms the topsoil. Sarsen stones are the hard remains of the quartz sandstone cap. They were used as building stone both for grand prehistoric monuments and for cottage foundations. The most impressive group of sarsens is the "grey wethers", on Overton Down which are supposed to look like a flock of sheep.
At the western end, the Og a "winterbourne", a stream which runs during the winter, formed a clay valley.