Saturday 25th April to Saturday 9th May
The Dolphin Gallery, Wantage
Open 9-5 (Closed Sundays)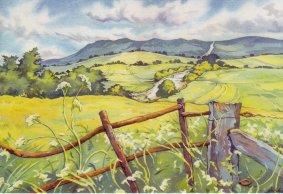 Gus Mills started painting full time in the mid – 80's and turned professional in 1986 with the aid of the infamous 'Enterprise Allowance Scheme'. He was initially inspired to paint landscapes by visits to the Lake District and was drawn to work in 'Ink and Watercolour', using soluble ink to create hints of linear detail, but with the essence of watercolour.
The remainder of the 80's was spent busily combining Painting, Exhibitions and Teaching, whilst each holiday provided new and exciting material. By the end of the 80's, Gus's painting style and the range of subjects covered had expanded considerably. The ink was long gone and a bold strong style of pure watercolour evolved.
Commissions became a significant area of Gus's work, subjects ranging from Traction engines to a 'Chicken in a Basket' as well as numerous landscapes. Throughout the time spent working at Labbett House, East Challow, Gus opened the Studio for Oxfordshire Art Week and for a Winter pre- Christmas Show. He also participated in a range of group shows as well as solo exhibitions further afield. His style and approach was always in great demand at Adult classes and for Art Society
Demonstrations. During his teaching time at Grove Adult Education Centre over 800 students wereinfluenced by his unique style and competent teaching. Many ex-students have subsequently exhibited their own work, having learnt the finer points of watercolour painting from Gus.
In 2004 Gus entered the Sunday Mail's 'Not the Turner Prize' competition. His painting 'Wantage Brook- Betjeman Walk' was selected from over 12,000 entries to form part of the finalists' exhibition. Although not the outright winner, the experience of exhibiting in the Mall Galleries, Trafalgar Square indicated to Gus that his painting had reached a level which justified a wider audience.
In May 2005, 'The Gus Mills Gallery', opened in Wantage. Set in a beautiful and very old building, it allowed Gus the opportunity to work alongside the ceramics, glass and wood of many other artists. The Gallery enjoyed over three years of success until changes in Wantage and the economic climate forced it's closure.
From spring 2009 Gus combined several days a week at the Oxford Castle Market with working once again at the Attic Studio, East Challow. Currently he takes part three times a year in a prestigious Art and Craft Market in Broad Street, Oxford and is once again sharing his watercolour talent with young artists through work in schools. Gus continues to be available at the studio in Challow, where he works each week and paintings can always be viewed here by arrangement, as well as discussing his much prized commissions.